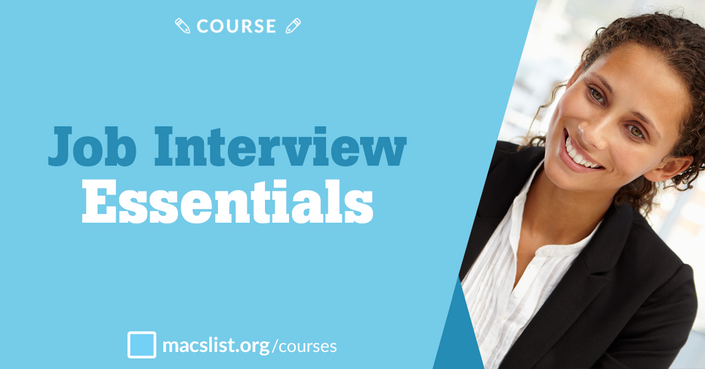 Job Interview Essentials
Everything you need to know to win the interview and land the job.
Watch Promo
It's Time to Go Back to Basics
So many people think the job interview process is rigged. Sure, it's far from perfect. But the truth is, you can win at interviews by getting really good at a few basic skills.
It's time to simplify the job interview - by breaking it down into simple tactics. In this course, I'll teach you the foundational interview skills you've been skipping over. We'll practice these skills with simple strategies, so you'll be prepared and confident in every job interview. These are lifelong skills that will help you land great jobs throughout your career!

Succeeding at job interviews is all about understanding the process, and developing a strategy. That's exactly what this course will help you to do. After years of conversations, feedback, and suggestions from the Mac's List community, we've built Job Interview Essentials.
In this course, you'll find:
25 Straight-to-the-Point Video Modules: I walk you through key interview challenges one at a time, then give you tools and strategies to solve them.


Strategies to Practice: Getting good at interviewing takes practice. I provide quick and easy ways to hone your skills before the interview.


Deep-dive resources: My team has been building resources on job interviews for years. While the modules in this course cover the essentials, we'll also provide links to additional help for when you want to go deep.

Personal help: If there's something you need extra help with, you can ask me questions in the comments section of each video. I respond within a day, and others who may have the same question can read our discussion!

Your Instructor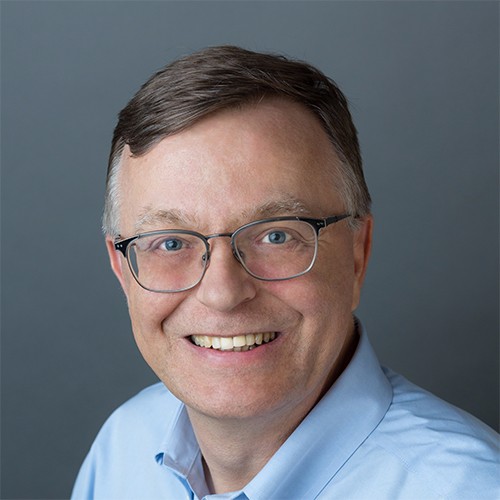 I'm the founder and publisher of Mac's List, a job board based in Portland, Oregon, that's dedicated to helping Pacific Northwest professionals succeed in the hiring process. Since 2001, I've helped thousands of professionals find meaningful, rewarding work and build careers that matter. I write extensively about the topic of job hunting, and have authored two books, "Land Your Dream Job in Portland (and Beyond)" and "Land Your Dream Job Anywhere." I also host the weekly podcast "Find Your Dream Job."
Who Should Enroll in This Course?
Active Job Seekers
Got a big interview coming up? You've only got once chance to make a good impression. Learn everything you need to do to knock it out of the park.
Anxious Interviewers
Have you had a bad experiences in past interviews? Do you get nervous? Or maybe you just can't seem to "connect" with interviewers. I'll give you tactics to prepare and execute interviews like a pro.
Older professionals
Older job seekers face a unique set of challenges in the interview process. Ageism is a real issue and can derail even the most qualified candidates. I'll show you how to neutralize age as a factor in your interviews.
New graduates
Don't want to struggle through a dozen bad interviews before you get it right. Let me show you what works when you want to impress a hiring manager.
Frequently Asked Questions
Is Mac's List based in Portland? Are your interview tips specific to the Portland market?
Yes, we are based in Portland, one of the country's most competitive job markets. These job tactics are not specific to Portland, or any other city for that matter. These are best practices that will help you win an interview no matter where you live.
I don't have any interviews on the horizon. Why should I take this course now?
You never know when you're going to get a call from an employer, asking you to come in for an interview. Even if you're not actively looking, you could be approached by a recruiter looking to place you in your dream job. The average American changes jobs 11 times over the course of their career. So you're likely to be interviewing again sometime in your future. You'll be able to use the lessons I teach in this course throughout your career to land great jobs.
I'd like to purchase the course but I don't have a job (or income!)
I understand your situation. I've been out of work myself. For me, education is an investment in your career. If you follow the steps I outline in the course you'll be more likely to convert interviews into job offers. That means more you get to work sooner and start earning paychecks
When does the course start and finish?
Once you register, this course is yours for life! It is a completely self-paced course: you can start right away, work at your own pace, and return as often as you need to.
How long do I have access to the course?
How does lifetime access sound? After enrolling, you have unlimited access to this course for as long as you like across all your devices. This is a great value, since you'll likely be interviewing throughout your career, and this course will be in your back pocket every time you need to brush up on your skills.
What if I am unhappy with the course?
We'd love to hear how we can improve! But if you aren't completely happy with your purchase, contact us within 30 days of registration and we will give you a full refund.