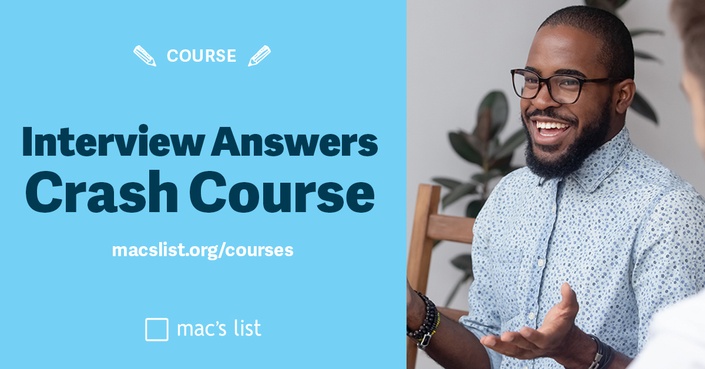 Interview Answers Crash Course
Learn the winning way to answer nearly any interview question!
Don't walk into the interview unprepared.
Did you just get invited to interview for your dream job? Congratulations!
Now it's time to prepare!
That's why we've created Interview Answers Crash Course―a short and to-the-point primer on how to answer the most common interview questions. In less than 20 minutes you learn simple strategies for answering the toughest interview questions with ease.

In this course, you'll find:
5 video lessons, focusing on the most common and most difficult types of interview questions. You'll learn the hidden rationale behind each question, explain what the employer wants to hear, and share a winning strategy for crafting an answer.

Worksheets, guidebooks, and other resources. I'll teach you the basics. But to master these skills you've got to practice. That's why I've included supplemental resources in every lesson, giving you the tools you need to become the best possible interviewee.
Personal help from me and the Mac's List Team. If there's something you need extra help with, you can ask me questions in the comments section of each video. I respond within a day, and others who may have the same question can read our discussion!

Course Curriculum
The Questions You'll Get in an Interview
Available in days
days after you enroll
Bonus Content
Available in days
days after you enroll
Next Steps
Available in days
days after you enroll
Stop guessing, stop winging it!
The job interview is the make-or-break moment for landing a job. It is your one chance to show the employer you've got what it takes to solve their problems.
But despite the importance of the job interview, most people DON'T prepare for these meetings ahead of time. Instead, they decide to wing it:
they don't plan out responses ahead of time
they guess at what the interviewer wants to hear
they shoot from the hip and hope for the best
Trust me... this approach doesn't work!
With practice, preparation and a little bit of insider knowledge, you give yourself a HUGE advantage over the competition.
In Interview Answer Crash Course, you'll learn the hidden meaning behind the most common interview questions and give you a strategy for crafting winning response. And while there are countless possible questions you'll hear in an interview, I'll help you break them down into a few basic categories, making them much easier to answer in the moment.

Your Instructor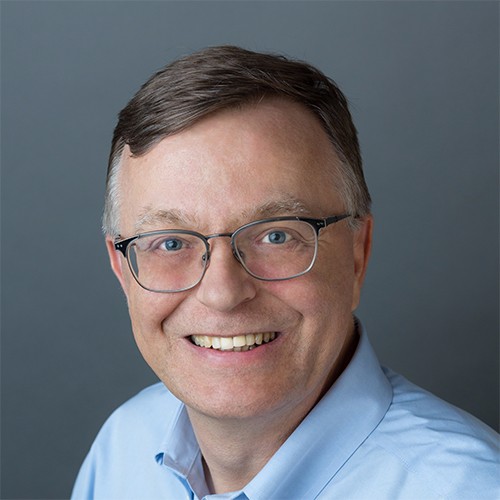 I'm the founder and publisher of Mac's List, a job board based in Portland, Oregon, that's dedicated to helping Pacific Northwest professionals succeed in the hiring process. Since 2001, I've helped thousands of professionals find meaningful, rewarding work and build careers that matter. I write extensively about the topic of job hunting, and have authored two books, "Land Your Dream Job in Portland (and Beyond)" and "Land Your Dream Job Anywhere." I also host the weekly podcast "Find Your Dream Job."
Why a crash course?
You never know when an employer will call you to schedule an in-person interview. But when the call comes, you need to be ready.
Employers want to increase the speed and shorten the duration of their hiring process. That means there's a premium on candidates who can interview ASAP.
If the interview is soon, you probably don't have time for a exhaustive, hours-long comprehensive course. So we prepared this short primer to cover the most important and vexing questions you're likely to get in an interview. If you can nail these few topics, you're already well ahead of the game.
In just 20-minutes you'll be ready to tackle that big interview.
Who should take this course?
You have an interview scheduled
You've only got once chance to make a good impression. Let's review the basics to improve your chances for success!
You get anxious in interviewers
Do you get overly-nervous in interviews? That's totally normal--interviews can be scary! I'll show you some simple tactics for answering questions, making the whole process easier! (It's almost like you'll know the questions beforehand!)
You're returning to the job market
Has it been a while since you last looked for work? You're interview skills may be a bit rusty! Together we can bring you up to speed on what works (and what doesn't!) when answering interview questions.
You're a first-time job seeker
Don't know what to expect in t Let me show you what works when you want to impress a hiring manager.
Frequently Asked Questions
I don't have any interviews on the horizon. Why should I take this course now?
You never know when you're going to get a call from an employer, asking you to come in for an interview. Even if you're not actively looking, you could be approached by a recruiter looking to place you in your dream job. The average American changes jobs 11 times over the course of their career. So you're likely to be interviewing again sometime in your future. You'll be able to use the lessons I teach in this course throughout your career to land great jobs.
When does the course start and finish?
Once you register, this course is yours for life! It is a completely self-paced course: you can start right away, work at your own pace, and return as often as you need to.
How long do I have access to the course?
How does lifetime access sound? After enrolling, you have unlimited access to this course for as long as you like across all your devices. This is a great value, since you'll likely be interviewing throughout your career, and this course will be in your back pocket every time you need to brush up on your skills.
I can't decide between this course and "Job Interview Essentials." What's the difference between these two options?
The "Interview Answers Crash Course" is a concise, quick-to-view primer focusing entirely on how to respond to interview questions. "Job Interview Essentials" contains some of the same material but provides a broader, more strategic approach to job interviews. (And it contains a whole lot more content.) If you need a quick refresh on interview questions, we recommend this course. People who need more support and practice should consider "Job Interview Essentials."
If I like this course, can I upgrade to the full "Job Interview Essentials" course?
Sure thing! You can upgrade to the full course at any time.
What if I am unhappy with the course?
We'd love to hear how we can improve! But if you aren't completely happy with your purchase, contact us within 30 days of registration and we will give you a full refund.
Is Mac's List based in Portland? Are your interview tips specific to the Portland market?
Yes, we are based in Portland, one of the country's most competitive job markets. These job tactics are not specific to Portland, or any other city for that matter. These are best practices that will help you win an interview no matter where you live.